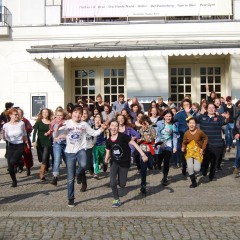 Herbstcamp 2015, Junges Deutsches Theater
For the Junges Deutsches Theater Berlin I was one of the directors of the international Herbstcamp 2015. in 10 days i've worked with 13 young people in the age from 10 to 17 around the theme Secrets. How can you create a character that hides behind a secret? How does a secret look on stage? what if the actors know more than the audience and what if the audience knows more than the actors.

We've created a presentation in which the actors perform short scenes that we've created around their secrets. Then the actor make contact with the audience and ask them to share some secrets. But what happens when the sweet young people cant keep those secrets and start sharing them with others?
"Ich esse gerne meine Fußnägel", "Ich habe den Hamster meiner Schwester getötet." – Was soll niemand u?ber dich wissen? Was kann jeder u?ber dich im Internet herausfinden? Geheimnisse sind die Währung der Freundschaft – 70% werden zumindest mit einer Person geteilt. Wieso verbinden Geheimnisse und wer wird dabei ausgeschlossen? Welche Geheimnisse machen mächtig, welche sexy und welche krank? Welche Personen verbergen sich hinter welchen Geheimnissen? Wie bringt man Geheimnisse auf die Bu?hne und was geschieht, wenn das Publikum mehr weiß als die Spieler? Wir erforschen die Bu?hnentauglichkeit von Geheimnissen: Wir kommen Geheimnissen auf die Spur, entwickeln daraus insgeheim vertrauliche Texte, konspirative Szenen und mysteriöse Figuren.