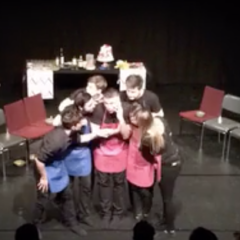 Scenes from Scenes from a marriage
Together with 7 actors with a diverse experience in theatre, I've created this play based on 'scenes from a marriage' from Ingmar Bergmann. we've worked together for 10 evenings and an intense weekend. The final performance was shown on 24.03.2016 at the STRAHL Probebühne in Berlin.
Marianne:
Do you think there is any way that two people can live together all their lives
Johan:
It's a damned absurd convention that we've inherited from I don't know what. People should have five year contracts. Or one that is valid from year to year, so that they could give notice
Marianne:
Should we have one?
Johan:
No, not us

Marianne:
Why not?
Johan:
We've drawn the winning ticket.

Scenes from scenes from a marriage from Bjørn de Wildt on Vimeo.
After ten weeks of acting classes we present to you the scenes we've created inspired by the play "scenes from a marriage" from Ingmar Bergman. Join us in an evening full of love, affection and destruction.
with: Dietger van Antwerpen, Marieke Gester, Phillip Breil, Valeria Calderoni, Martin Vollenbroek, Daniel Wighton, Guy Fitzpatrick
Coaching und Regie: Bjørn de Wildt
Dramaturgie: Daniel Wighton